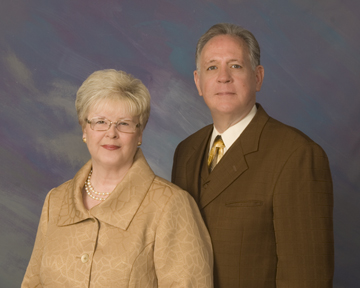 Gary and Sandy Chambless are the Pastors of The ROCK's Helps Ministry. Gary is also the Staff Development Director of The ROCK's School of Ministry. Gary and Sandy are Bakersfield natives. They have worked in the ministry since 1984.
Up to 1991, Gary was a co-owner of a local family business, and since 1997 he has been an independent insurance agent. From 2003 to 2011, Gary was a senior pastor at a local church. He has been a leader in the Ministry of Helps, has been an Armor Bearer, Home Church Pastor, and is an instructor at The ROCK's School of Ministry. On occasion, he speaks from the pulpit in Pastor Barger's absence, has ministered at other churches as a guest speaker, and has counseled couples and individuals.
Sandy has been a devoted wife and mother. She is a very strong intercessory prayer warrior, has led Bible studies, speaks at women's ministry events, and has led church marriage seminars. Sandy has been a Home Church Pastor, is an anointed worshipper, and is the Director of the Altar Workers.
Gary and Sandy are available to answer your questions or assist you. Contact them here or call (661) 587-7625 (ROCK).