Go therefore and make disciples of all nations, baptizing them in the name of the Father and of the
Son and of the Holy Spirit, teaching them to observe all that I have commanded you. Matthew 28:19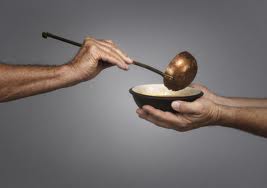 The ROCK Church Outreach Ministry is committed to feeding the homeless, clothing the naked, and nurturing the soul. We are called to reach into our community to share the Good News and the love of God. Our passion is to make a transformational difference in our community. We accomplish this through the following outreach-focused ministries:
Citywide Outreaches
Our bi-annual citywide outreaches branch out to the poor areas of Bakersfield, a city of approximately 355,000 residents. Each outreach is held at a different location so that a different area of Bakersfield is reached. The citywide outreaches are open to the public, and provide food bags, clothing, intercessory prayer, live praise and worship bands, and the Word of God.
Evangelism
Our Evangelism Team is dedicated to promoting the Good News and reaching the lost by proclaiming salvation through faith in Jesus Christ. The Evangelism Team calls on visitors to The ROCK to build relationships with them and encourage them to become living members of Christ's earthly community. The Evangelism Team will also go house-to-house to engage persons in a spiritual dialogue resulting in professions of faith in Christ.
Food Pantry
The Outreach Ministry maintains a food pantry for use by the members of The ROCK, and at the various outreaches. Canned food donations are always welcomed.
Contact Us
To contact Pastor Ed Barger for more information, CLICK HERE.